The book that kick-started this teaching-folks-how-to-jam-stuff for me: Creative Ability Development (C.A.D.) by Alice Kay Kanack.  Review & report below.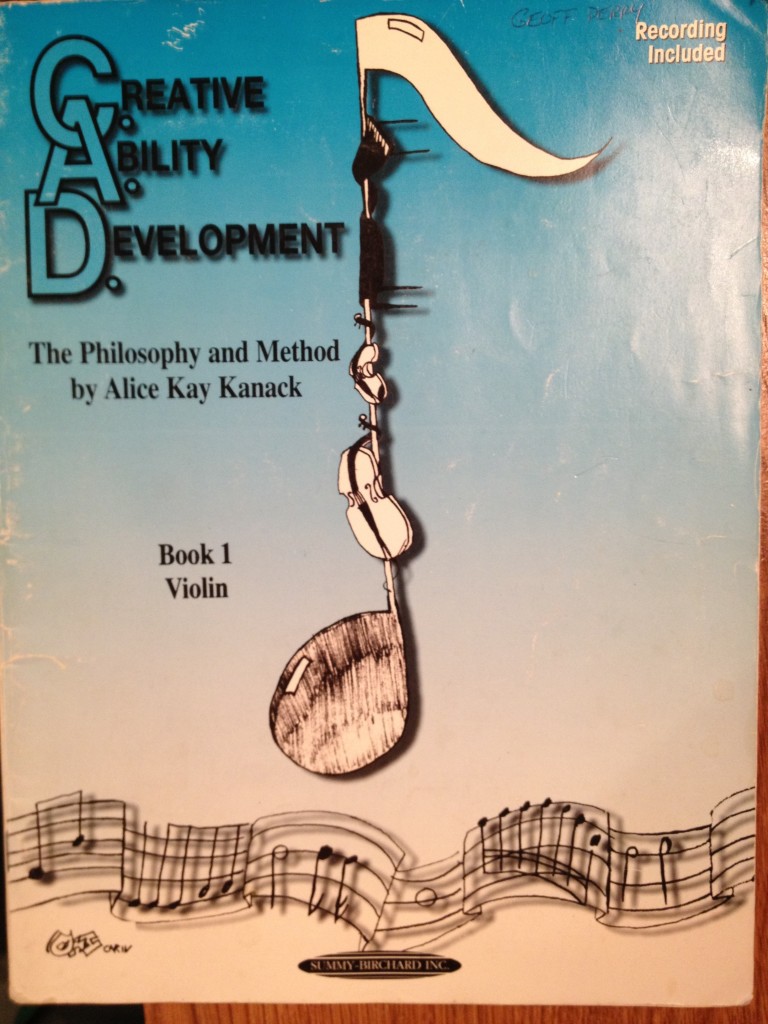 Alice was a friend of my sister's.  They both went to the world famous Eastman School of Music together.  Alice's family also owns a prestigious violin shop in the Rochester, NY area.  My sister worked there seasonally when they needed help getting their rental violins prepared for the coming school year.  I went to visit my sister at work one day and checked out a few rather expensive violins and bows.  While there I got introduced to Alice, and the conversation turned to teaching, and teaching methods.  I was just beginning to develop my Fiddle Jam method at the time.  As a matter of fact, I am now  remembering it was my sister who helped me get that working title in a brainstorming session.  Thanks sis.  Anyways, it came up that Alice too had a book and method about improvisation, and I purchased one out of courtesy and fellow author support.
When I actually checked Alice's book & method out though, I was rather blown away!  She had nailed it I thought!  She realized that the Classical-only Suzuki model was completely devoid of any real creativity, and had very convincing theory, research, and arguments as to why it was so important for violinists to include improvisation in their education.  The Book included a CD of generic cannons, fugues, and other mostly Classical forms with fingering charts encouraging students to create whatever they wanted over the top.  I was very excited about this, and started getting all my students to purchase C.A.D.
The only problem, in my experience, with C.A.D then, was my students tended to get bored with it after a few weeks.  Being creative opened a door for them, but the tracks and styles of music just did not keep their interest.
So, I knew what I had to do… in the violin community around my hometown area I was already considered "Mr. Rock 'n' Roll" having followed not only Jean Luc Ponty's Jazz Fusion footsteps, but also delved into Blues, RnB, Hard Rock, Pop Rock, Country Rock, Punk Rock, and other non-Classical styles… So, I put my work and experience, and some of Alice's methods in the proverbial "blender" and wrote, as you may now know, "Fiddle Jam, a way-cool easy way to learn how to improvise" which was soon picked up by the Hal Leonard Corporation for world-wide distribution, and spawned this very Fiddle Jam Institute.
I thank Alice for her inspiration.  C.A.D. is still a great book.  …especially if you may be more Classically trained and leaning.  I highly recommend it!  I especially liked the pages where she included a letter from Mozart (translated from German) about how he, in his own words, went through his creative process (I'll include it below for our registered members).
Non-members: Want to learn more about this?

Click here for more info on our free Fiddle Jam Club membership and "ALL ACCESS PASS" full Fiddle Jam Institute enrollment to be able to see more of Fiddle Jam Institute lessons like this!<<::>>