‎
Fiddle Jam Club Newsletter
Welcome newest club members: Allen, Jorge, Vera, Gail, Sainaa, Kristin, Rene, Rick, David, Isabelle, Jessie, Grace, Sandy, Josh, Joshua, Chit, Miguel, Lenita, Carol, Liona, Ela, Greg, Alesha, Jon, Claudia, Doug, Rex, Brenda, Ivan, Levi, Johnny , Allen, Bailey, Debbie, James, Arammkl, Diane, Joscelin, Scot, Albert, Traci, Kristee, Kristin, Olivia, Zander, Jill, Patrick & Catherine!!

Happy New Year!! May you all have many joyful and happy jams!!!
<<::>>
Newsletter Topics Below: 1) Box Blues – Blues Violin Course Sneak Peak! 2) Outlaw Fiddle Pickup  3) Riffmaster Pro software 4) Numbered Lessons?
1)

Featured Lesson of the Month

:  I'm pretty excited about this one!  I know, I know… some of you have been patiently waiting for my Blues Violin Course for a long time.  Thanks for your pokes on this. ;~)  I've finally pushed this project onto the "front burner" and have decided to give our good Fiddle Jam Club members (YOU!) the first look at the first lesson for free.  "Box Blues" is a song I wrote for the course.  I think the lesson is fairly exhaustive and plan on giving each lesson in the course (12 songs over a 12 week period) this same amount of detail.  In exchange for this sneak peak, I'm just asking for your suggestions and feedback.  Did I miss anything?  Did I get anything wrong?  Let me know!  I'll leave this up for your uses at no charge for the next TWO WEEKS before I start offering the full course for sale. Click here to check out the FULL LESSON now!
2) My Outlaw Fiddle Electric Violin Pick-up continues its development.  You've heard me mention here that I've been working on a new kind of pick-up for electric violin in my Outlaw Fiddle shop for more than a year now.  I'm getting closer and closer to something that sounds the way I'd like it to and I feel could be of value to others.  You can hear a prototype of it in the Box Blues lesson videos above.  What do you think?  My goal with this is to get violin amplification into at least the 20th century (and here we are in the 21st! …and still about 60 years behind electric guitar development!).  I feel that the violin world needs a pickup that could plug directly into any guitar amp, without a preamp and sound good without any major tone knob gymnastics, even to the point of turning up everything to 11 (a famous Spinal Tap movie reference) and cranking it loud with distortion, without feedback!  I think I've achieved that in this prototype.  I am working with a CAD engineer who is programing the parts into his manufacturing equipment and we are working on the details for an "EVIII" Outlaw Fiddle electric violin model that I hope to offer for sale in the coming year.  I'm very excited about the cool shape that we've come up with and will sneak you a peak as we get closer to an official unveiling.  Stay Tuned!
3) Riffmaster Pro Software.  This most useful piece of software that can slow down any audio file for practice and study without changing the key, is still available at

40% off

through a special arrangement with the Fiddle Jam Institute!  The Riffmaster folks are generous enough to give Fiddle Jam members this special 40% Discount on purchase!  They are running a special sale right now that is only 30% off…

don't take it

!  Our discount is better!!  This software can also change keys, loop a smaller section of the song, remove vocals, and has functionality to save your altered version to your computer if you want too (handy if you want to make your own karaoke tracks in a key that is better for your voice or fiddle playing).  Very cool and recommended.  Check it out here.
4) Numbered lessons?  I'm interested in our input on an idea I'm brewing on for yet another way to organize my FJi Library Lessons for you.  I think that I already have tons of ways to sort and find the lessons that you desire on the site (maybe TOO many? See pic below), but had the thought occur recently that simple numbered lists might be a better idea?  Example: "Learn THIS song first, then when ready, move on to THIS song next, etc…" for a specific mini course of study.  What do you think?  Please feel free to give me your feedback below.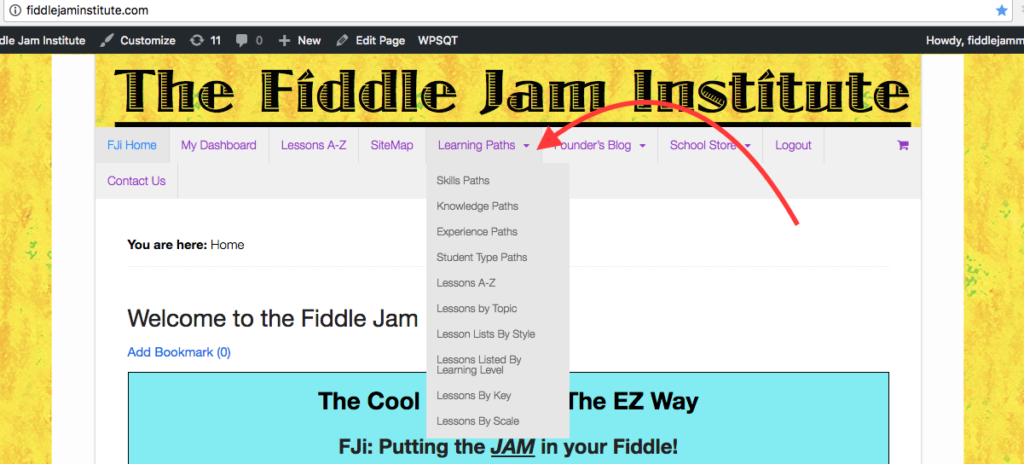 If you have any questions or comments, please feel very free to post them below. I love to hear from you!
Talk soon!
Fitz
PS: If the contact form (that is supposed to be below) does not appear in your browser, click here to send me a message instead.
Remember, if you ever want off of this list, just let me know! I'm not looking to spam anyone with unwanted inbox intrusions. I'll most likely be sending this out a couple times a month as we head into this new phase… maybe just a little more when there's something new going on. Till next time!
<<::>>
FJI Newsletter, Late July 2016