iFiddle readers!  Interested in the Blues? Check out this Sneak Peak of my Blues Violin Course just for YOU!!
Check out this Limited-Time Blues Violin Course sneak peak for iFiddle readers below.  If you want to learn more about the Blues on your fiddle, check out my Blues Violin Course for sale in the School Store.  Click here to get more info on both the full 12-week course and an Express 4-week Blues course option.  As an extra bonus to iFiddle readers, if you purchase a Blues Violin Course, I will send you a digital copy of my original Fiddle Jam book!  The digital version has tons of extra audio tracks that did not come with the original physical Hal Leonard Corp. book/CD.  Just email me after purchase and I will be glad to personally send this to you.
If you are generally interested in what the Fiddle Jam Institute has to offer, consider joining either our FREE Fiddle Jam Club or purchasing an All Access Pass to the complete FJi (Fiddle Jam Institute) Library of lessons!  Click here to get more info comparing these two membership options and enjoy this limited time sneak peak below.  Happy Jams!
<<::>>
Though I wrote the "Box Blues" specifically for this course, there will 11 more tunes like this one that will stay close to the standard 12 bar Blues format with songs "in-the-style-of" (or I.T.S.O.) B.B. King, Elvis Presley, Little Walter, The Stray Cats, T-Bone Walker, Bill Haley, Stevie Ray Vaughn, and others.  The main thrust of the course will be for you to simply be comfortable and knowledgable playing the Blues, knowing the lingo, riffs, and formats that would be expected of you if you sit-in with a band, or start your own.  I'll also cover quite a bit about electrifying for this style.  I've included a Distortion Violin Primer lesson in this post to give you an idea of that kind of info too.  Again, let me know what you think!
THE "BOX BLUES" – FULL LESSON
Introduction to the Box Blues: 
Box Blues Performance by Geoffrey Fitzhugh Perry: 2x melody, 2x solo (@ 1:00), 1x melody
Audio only of Geoff's performance track: 2x melody, 2x solo (@ 1:00), 1x melody
Box Blues Melody by Rote Tutorial: One note and one phrase at a time.
Box Blues Lead Sheet: Staff Notation, Note Names/Finger Numbers, Fiddler's Tab, and chord symbols.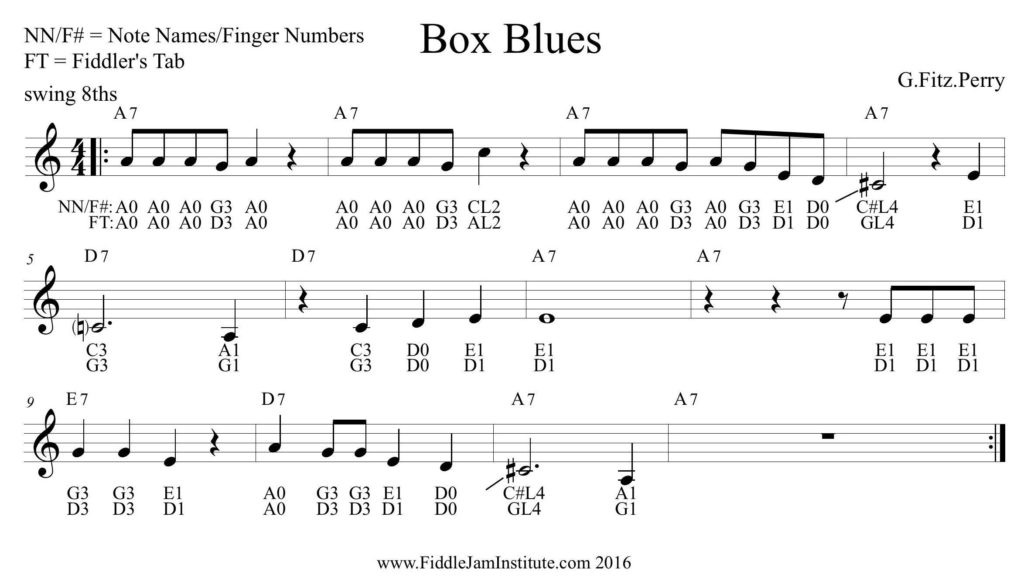 Box Blues Backing Track: use this to practice the melody repeatedly (5x), or solo the whole way through, or as a performance back-up for yourself.
Box Blues EZ-Soloing Tutorial: Also see EZ-Zone Fingering Chart below
Remember, the general "rules" for improvisation are: 1) None.  2) Play whatever YOU think will sound good (without thinking too much about it).  3) Start and end with a "tonic note" (A in this song)… or not. 4) Use the other EZ-Zone notes at will. 5) Keep it rhythmic. 6) Listen and respond to the track (band). 7) Refer to #1 above.  Best Advice: Try to listen a few seconds ahead in your mind to what you'd LIKE to hear yourself play… and play, to the best of your ability… THAT!
EZ-Zone Fingering Chart for A Blues Scale: note the double EZ-Zones in this key!  0-1-3 on A & E, and also 0-low2-3 on the G & D strings.  The starred notes are the tonics, which are great notes to start and end with (and use the most) for your musical ideas.  The extra "Blue Notes" (Eb's in this key) are there for extra sizzle too.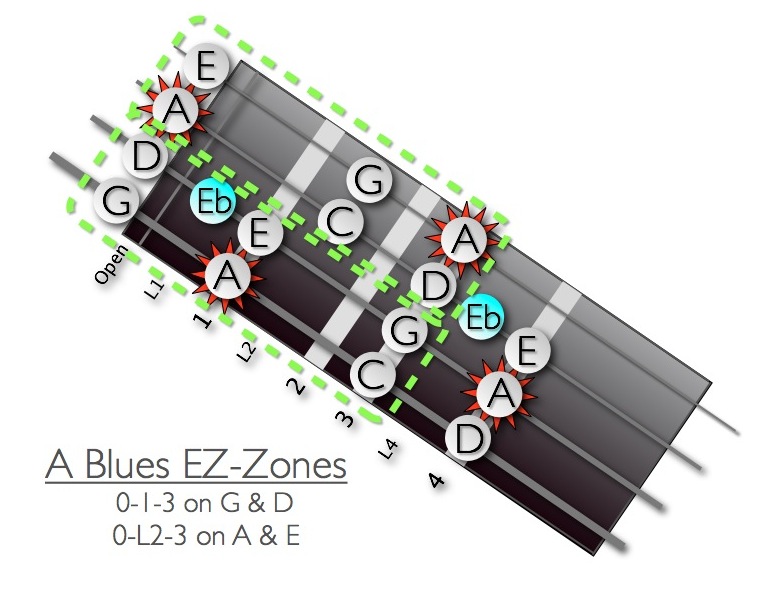 Box Blues Riff Training: Here's some riffs to try to this song (I played many like these in the Demo Performance above).  See the accompanying Riff sheet below.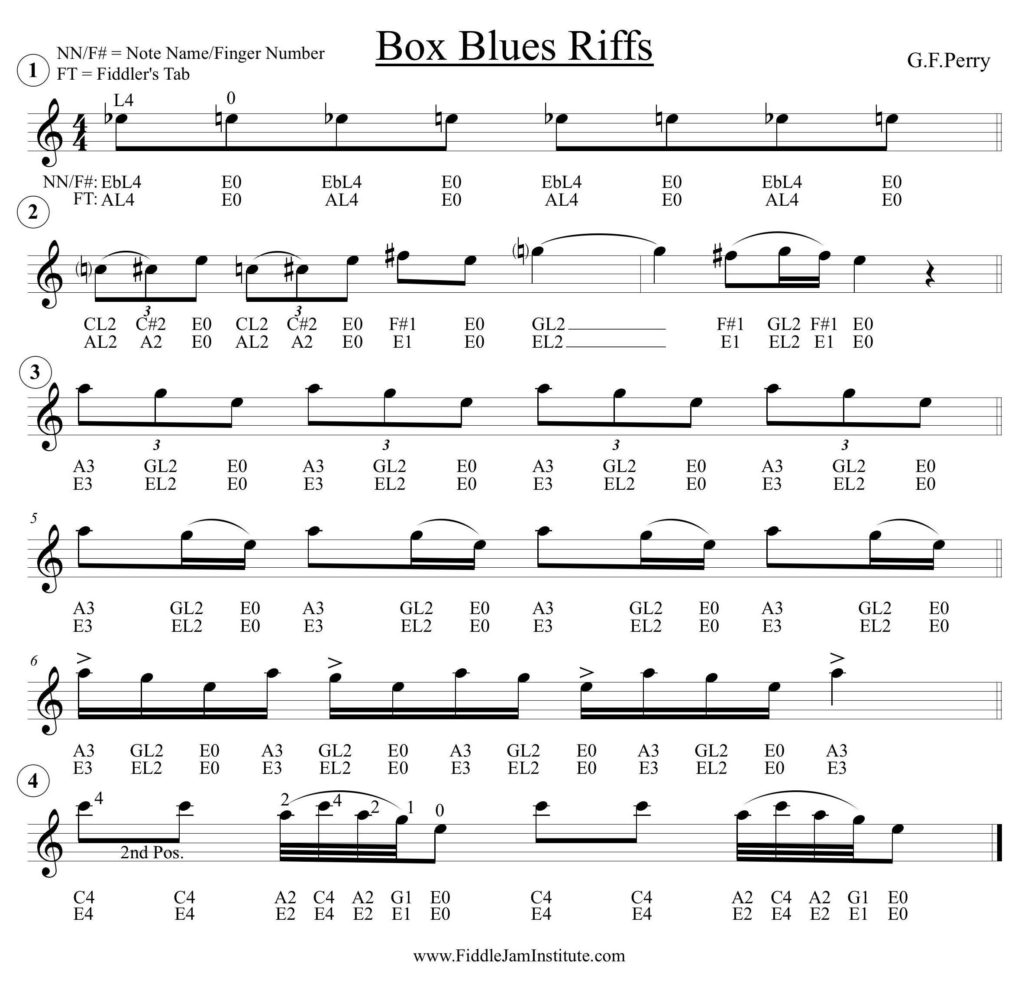 Box Blues Theory and Advanced Soloing Tutorial:
Bonus: Distortion Violin Primer: Learn about adding this rich and expressive texture to your playing.
Again, please give me some feedback below (or just encouragement would be nice too).
<<::>>