Welcome to another installment of the Fiddle Jam Club Newsletter

!

 
Welcome newest club members: Adam, Jaron, Jack, Richard, Luis, Jada, Melba, Joyce, Vihn, Mandy, Clark, Angie, Katherine!!!
May you all have many joyful and happy jams!

Newsletter Topics Below: 1)  Featured Lesson of the Month 2) News 3) Private lessons 4) iFiddle column
<<::>>
I stumbled onto this Gamalon footage from 1988 today and thought it would be interesting to show you all the possibilities of the violin!  That's me on a home-made violin I called EVI (minus the gray hair we see today!).  I had probably been in the band about a year at this point, but you can readily hear how developed our sound was even in this early state.  This tune is a bit show-bizzy with the guitar/violin duel but it always got a great response from the audience.  Airplay-wise Billy's Saloon was one of our more played tunes that got used at Hockey Arena's, Football Stadiums (I think that the Buffalo Bills ran onto the field to this song), the Olympics and World Wrestling Federation too.  I know that famed NASCAR driver Rusty Wallace told us he listened to Gamalon while racing.  Pretty neat.  At our peak, Gamalon hit a #8 spot on the Billboard Jazz Charts, Played the Newport Jazz Festival in front of 40,000 people, was signed to MCA and Amherst Records, and toured with sax great Ernie Watts.  I am proud to have stood with my brothers for 8 years.  R.I.P. Ted Reinhardt (drums) and Bruce Brucato (guitar far right).  Also in the band were George Puleo (dueling guitarist) and Tom Reinhardt (bass).
Since this is primarily an educational site, I guess it would be appropriate if I talked about the music in this song!… Basically, it's a one-chord jam.  Yes, there is a lot of stuff going on, but listen to the bass… it is just "pedaling" (an old organ term) on an E (with a few popped notes to support E).  I often have noted this with Jazz students who tend to think that music has to be harmonically complicated to be good.  Just like any other song, it has a melody section that appears at the beginning and again at the end.  The melody has an A and a B part not unlike a fiddle tune, and we arranged the parts to make it musically satisfying for us and the audience with a typical head(melody)/solo(bass)/solo(trades)/drum solo/head format.  The solos are all E minor Pentatonic (jam along using the finger chart below!).  Though it's been nearly 30 years (I can hardly believe it!), if one of our members asks, I would be glad to go back, re-learning it, and write it out in chart form for you & other members to benefit from.  Let me know.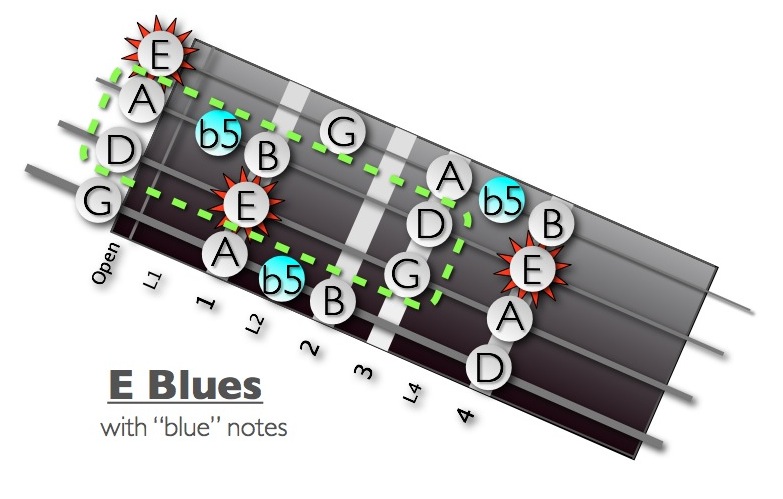 <<::>>
2) FIDDLE JAM NEWS: Had fun at the Florida Folk Festival where one of my student Simone placed first place in her age bracket!  Know of an event, festival, or school that would benefit from some Fiddle Jamming?  Let me know!  I have done Fiddle Jam Clinics nation-wide and really love them.  I have openings this fall.  Watch for more announcements here.
 3) Interested in Private lessons with me?  I am opening up my schedule to include more of this via webcam if you are interested.  I will also be offering a couple more intensive courses soon.  One for absolute beginners that will give you a great fiddle jamming foundation in 60 days, and another that will have you confidently sitting-in and jamming with bands in 90 days.  I would be happy to put together a custom lesson plan for you on any of the topics featured on the site too!  Contact me via the form below!  Gypsy Jazz Violin?  Blues?  Cajun/Zydeco?  Playing with Distortion? The Chop? Or, the Harmonic Squeal Feedback Technique?  Just ask!!
4) As many of you know, I've been doing a monthly column for my friend Mike Spear's iFiddle Magazine.  The newest one will be a beginner's tutorial on Double Stops.  I have a re-post for my members here (Free club members will see the video and our All Access Pass members will also see the 19 fingering charts associated with this lesson).
Check out the newest lessons posts (they are always listed at the bottom of each page on the site!)
If you have any questions or comments, please feel very free to post them below.  I love to hear from you!
Talk soon!
Fitz
PS: If the contact form (that is supposed to be below) does not appear in your browser, click here to send me a message instead.
Remember, if you ever want off of this list, just let me know!  I'm not looking to spam anyone with unwanted inbox intrusions.  I'll most likely be sending this out a couple times a month as we head into this new phase… maybe just a little more when there's something new going on.  Till next time!
<<::>>
FJI Newsletter, Late May 2016