Description
I originally recorded this just for my students to give them fun examples of the possibilities of where these old fiddle tunes could stylistically be taken, or might well BE taken in some circles beyond the Folk and Bluegrass settings that they are normally found in.  I called this collection my "Fiddle Jam Greatest Hits" at first, but later called it "Pot Luck Pickin' Party" after the social settings that these tunes might more regularly be heard and played, where people bring a dish to pass and play a little informal music in places all over the world.
For me, they were a fun exercise with my swampy New Orleans-style Zydeco/Cajun experiences.  You will not only hear fiddle and jamming (of course! ;~), but also mandolin, resonator guitar, and washboard, all backed by drums, bass, and electric guitars!
I offer them here for your Fiddle Jamming listening pleasure; though, you may want to have these tracks to play along with yourself.  I have also included music charts of all 10 songs for this purpose.  Enjoy!!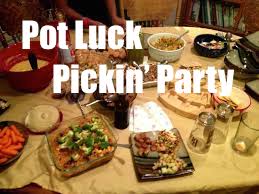 10 Songs – fiddle and jamming – audio sample clips below:
1 – Bile Them Cabbage Down
2 – Cripple Creek
3 – Old Joe Clark
4 – Acadian Two-Step
5 – Miss McLeod's Reel
6 – Swallowtail Jig
7 – Cotton-Eyed Joe
8 – Angeline the Baker
9 – Sugarfoot Rag
10 – Clinch Mountain Back-Step
<<::>>
Copyright Fanatical Fitzhugh Music 2016