Hey Fiddle Jammers!
We are inching closer to the official launch of my new Blues Violin Course April 19th!  I am testing and double testing everything behind the scenes so you will hopefully have a smooth experience accessing the 21 Blues Violin Primer video lessons and well as the complete 1st Tune Lesson in module one, with this (as well as all the future Blues Violin Course lessons that will be released weekly over the 12 week inaugural run) including a dozen more lessons just within that one song!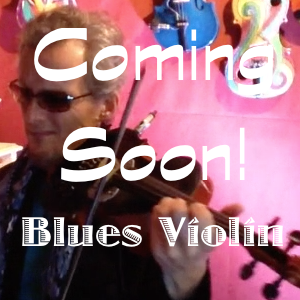 If you are at all interested in the modern jamming side of the violin/fiddle worlds, this is an excellent place to start!!  All modern styles came from the Blues and are deeply influenced by this very American invention.  Yes, the earliest Blues did come from Africa, but the powerhouse style that it is today was developed, as I cover in the Blues History primer video (#7), in four geographical areas of the United Sates.  Over the course's 12 week run I will release tunes that are from each of these Blues areas.
As promised in one of my promotional videos, I will also offer a shorter version of the course (21 Primers and four Module One Tune Lessons) for those who might be a little financially or time/commitment strapped.  I understand!  There will also be options later to purchase the other Modules if you feel left out after just Module One too ;~)
I truly believe that this type of violin/fiddle education is essential if you want to up your "coolness factor" and play not only Blues, but any variety of Jazz, Rock, Country, or even Old-Time and Bluegrass styles as well, and this step can be a game-changer for your playing that will influence you for a lifetime of musical fun.
I'll be announcing more in the coming two days.  Please feel free to pass this on to any of your fiddle friends you might think could also benefit from this Blues Violin Course!  I'll put them on this newsletter list so that they can get the latest juicy details of all that the Fiddle Jam Institute has to offer!  Thanks!
Very Sincerely,
Fitz
PS: check out the Blues Violin Course home page here.  You will not yet be able to access the lessons, but you can see the complete list of all the lessons that will be in the course (plus a couple surprise bonuses I plan on throwing into Module Three at the end).